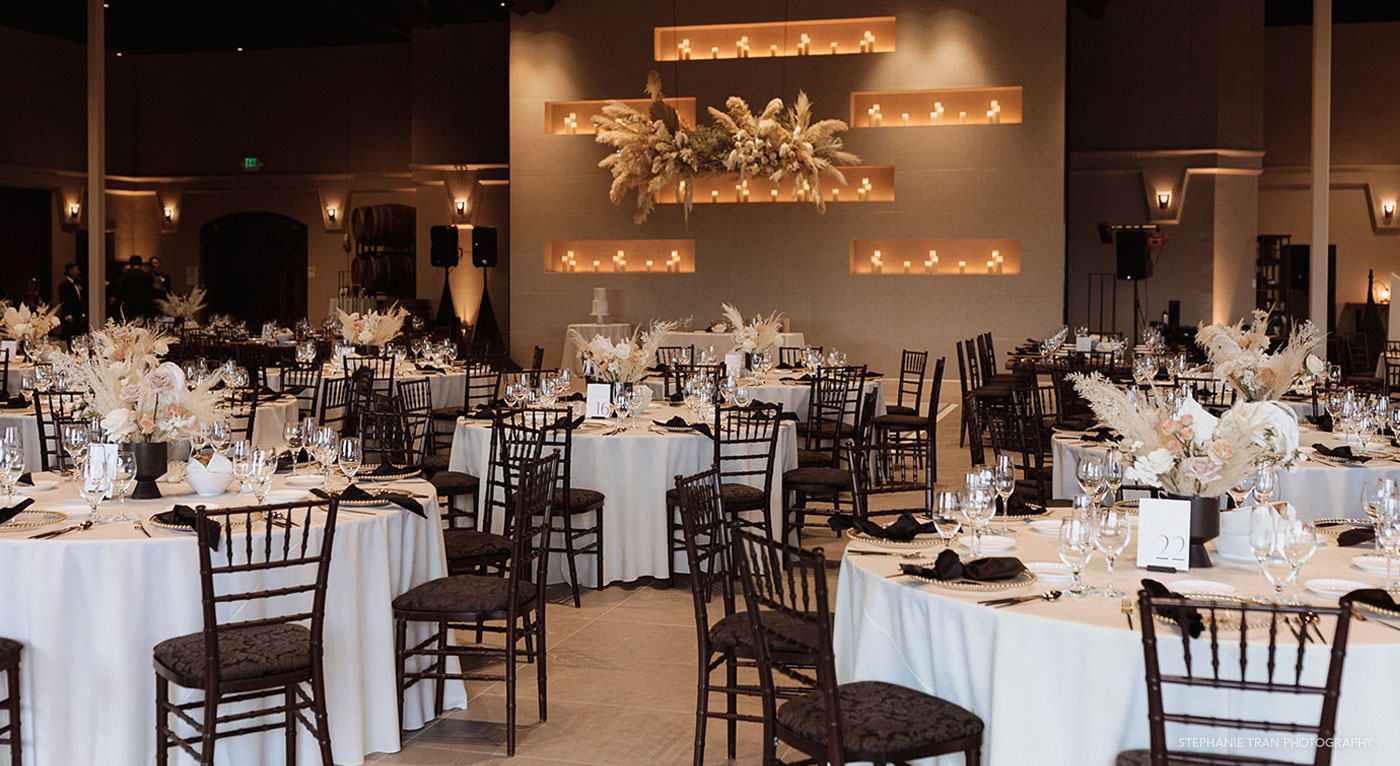 Private and romantic, the Palm is an elegant, contemporary wine country estate. Featuring wine barrels, glittering candlelight, and expansive views of the vineyards, the Palm is the perfect spot for any celebration.
---
Estate Room
Intimate with glittering tea lights and rows of oak wine barrels, the Estate Room is full of wine cave romance. Two massive handcrafted redwood doors create a dramatic entrance, opening to reveal a stunning aisle with overhead glowing wrought-iron chandeliers. Wine barrels line the room with optional uplights placed between barrels that give the room a glowing, striking atmosphere. A perfect room for indoor ceremonies, small wedding receptions, or cocktails. It may also be used for fun activities, such as a speakeasy lounge or kids room.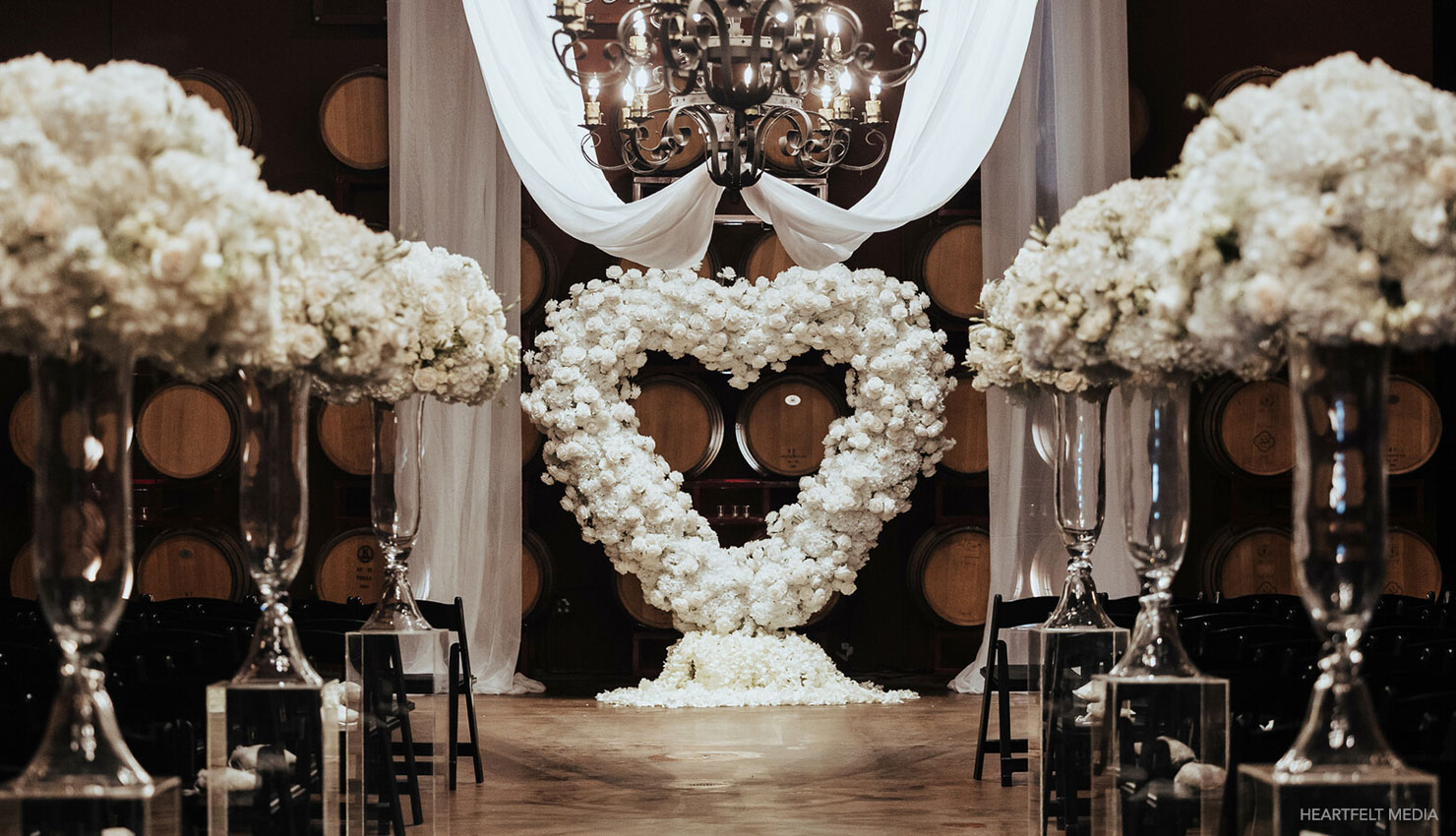 ---
Ballroom
Light, airy and contemporary, the Palm's ballroom features ample natural light and giant window doors opening up to the vineyards beyond. Wine barrels accent the room's interior while sconces, candles and uplights create a warm glow. The candle feature wall is the perfect backdrop for a sweetheart or head table. An impressive sleek quartz and metal bar is located in one corner of the room, featuring a full open bar with spirits, beer, wine and custom cocktails.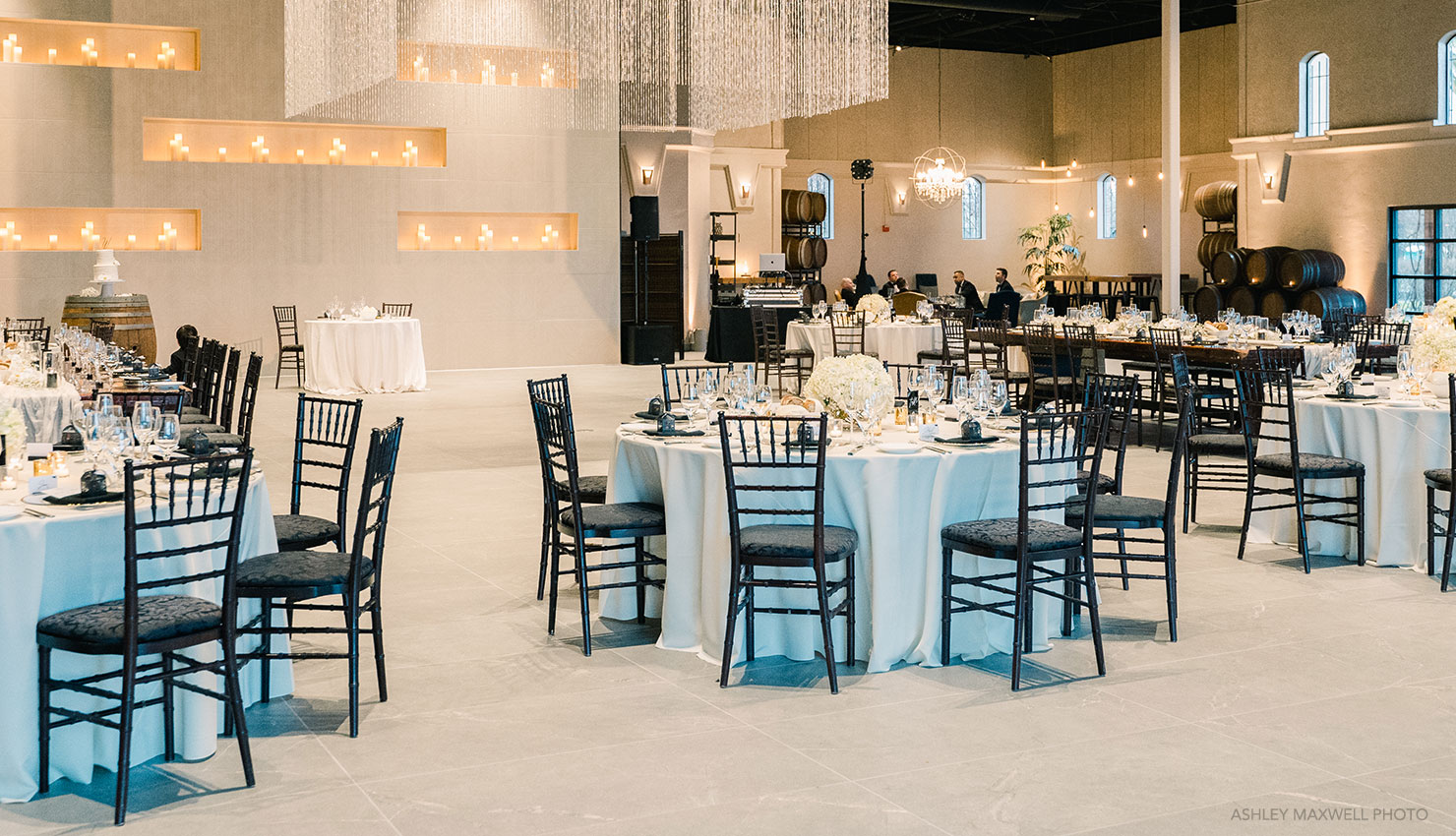 ---
Vineyard Terrace
Overlooking 110 acres of vineyards, the Palm's outdoor Terrace allows guests to thoroughly enjoy scenic wine country. Accessed from the Ballroom through five sets of contemporary window doors, the outdoor space features a multilevel stone patio for guests to mingle, sip cocktails, and play lawn games. There is also a beautiful wooden arbor and lawn area for outdoor ceremonies that overlooks the vineyards. A winding path to the ceremony site allows guests and the wedding party to make a grand entrance.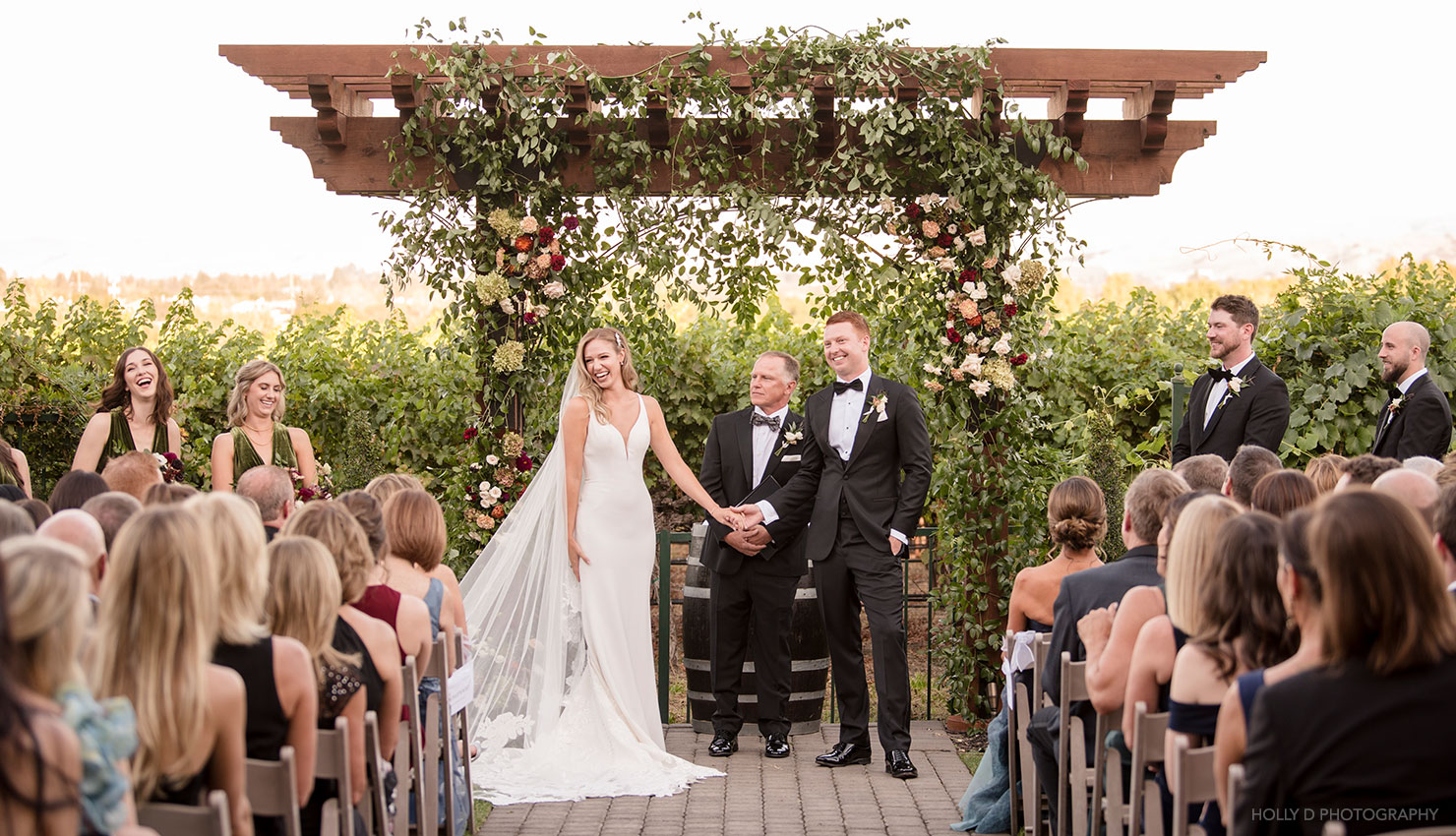 ---
Wedding Suite
An elegant dressing suite is included on-site adorned with plenty of mirrors, beauty bar and attached private bathroom.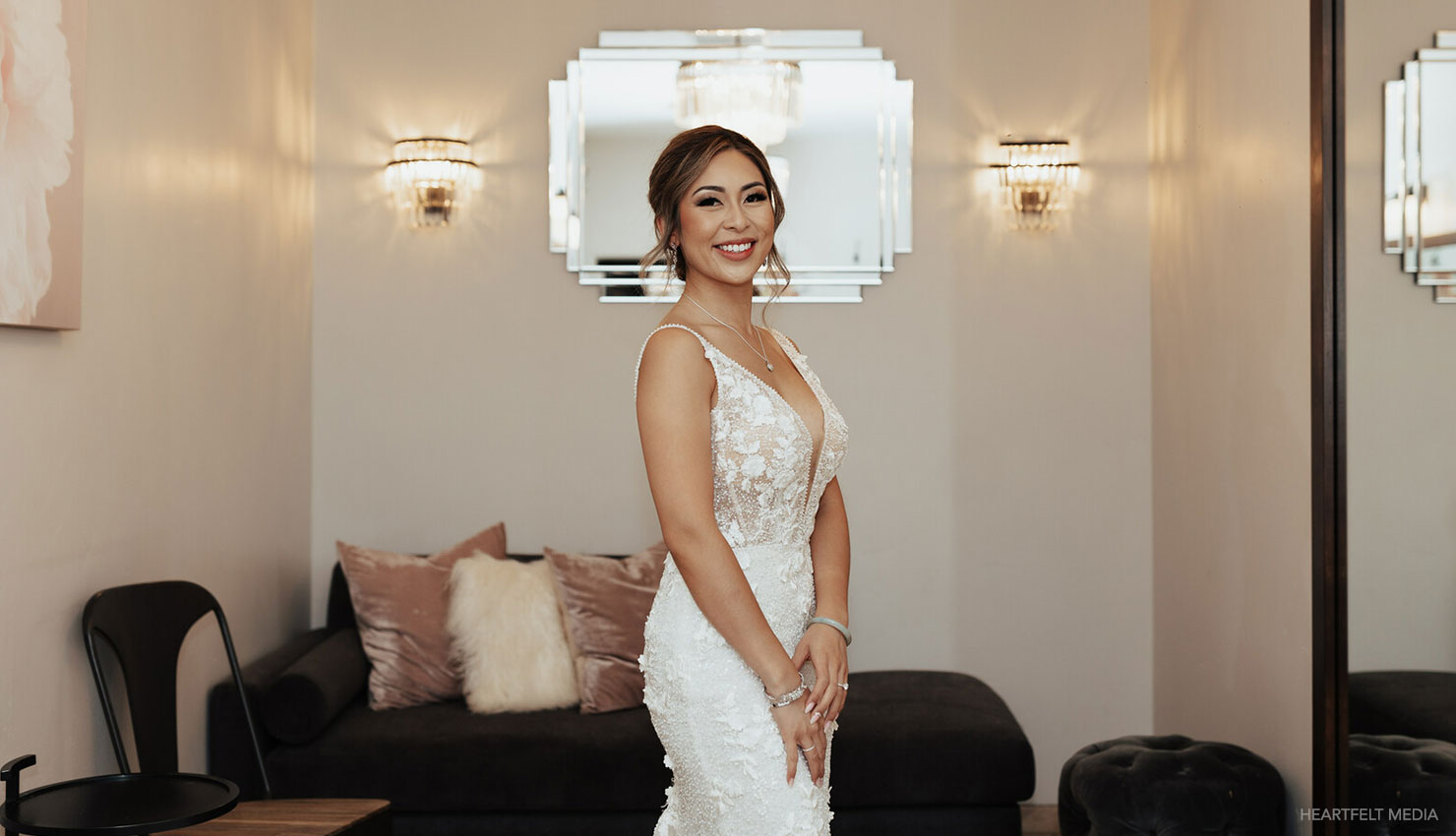 ---
The Lounge
The Lounge sits in one corner of the ballroom and is a fun space to use as a second indoor bar, a dessert suite, a place for a late night treat, or extra lounge seating for guests throughout the event. Furnished with couches, cozy chairs and decor, it's a wonderful setting for guests to mingle and relax.